Xiaomi Redmi Note 7 (6.3 Inch + 3GB RAM)
Xiaomi Redmi Note 7 (6.3 inch + 3GB RAM)
The Xiaomi Redmi Note 7 (6.3 inch + 3GB RAM) features a IPS display of 6.3 inch with pixel resolution of 2340 x 1080 pixels and 409 ppi. Powered by 2.2 ghz, the smartphone comes with 3 GB of RAM and 32 GB of internal storage. On photography front, the mobile device is equipped with 12 MP rear camera and 13 MP front-facing camera. For power supply, the handset is supported by a 4000 mAh battery backup. For best prices, compare Xiaomi Redmi Note 7 (6.3 inch + 3GB RAM) online from anywhere in the country including the metro cities like Lucknow, Jaipur, Ahmedabad, Gurugram, etc.
Read More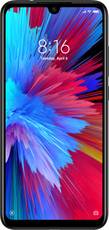 Rs 9,999
Rs 11,098
Product Key Features
Screen Size : 6.3 inch
Total RAM : 3 GB
Internal Memory : 32 GB
Rear Camera : 12 MP + 2 MP
Front Camera : 13.0 MP
Battery Capacity : 4000 mAh
Xiaomi Redmi Note 7 (6.3 inch + 3GB RAM) Details
A big screen of 6.3-inch with great performance, the Redmi Note 7 is expected to launch soon. A huge quality display is meant to relish gaming experience and watching movies. This huge display will also come with Gorilla Glass protection to protect your mobile phone's display for accidental drops. If reports are to be believed, the handset will have a dual 12-MP+ 2-MP rear camera with PDAF functionality. On the front, the mobile phone is expected to come with a 13-MP front-shooter. This upcoming smartphone by Xiaomi will be based on Snapdragon 425, powered by Octa core, 2 GHz, Cortex A53 processor. Other than this, the mobile device will have a 3GB of RAM for smooth the functioning of the device. And above all, it comes with strong battery backup of 4000 mAh which can easily run for a longer time.
Expected Price: 9999
Expected Date: 28th February 2019
Redmi Note 7 Features
Huge 6.3-inch display
12-MP+2-MP rear PDAF camera
13-MP front camera
3 GB RAM
4000 mAh battery.
Redmi Note 7 Specifications
Design and Display: The Redmi Note 7 looks stylish with an extra thin body and stylish design edges. Users can pick from different color option such as Gold, Dark Grey and Black. With multiple color options and stylish design, the handset would be perfect to enhance your persona. Besides design, the mobile device got an AMOLED LCD display with a screen size of 6.3-inch and a screen resolution of 2340 x 1080 pixels. The huge display is best to watch videos or play games. In fact, the big screen is ideal and easier to read and access the device.
Camera: When it comes to the photography, the Redmi Note 7 is expected comes with dual rear camera lenses of 12-megapixel+ 2-megapixel. With such high quality dual camera, users will be able to capture images in a much beautiful way. With such a high camera quality mobile phone, there is no need to carry a separate camera while on a tour. And for selfies, users can make use of a 13-megapixel front camera. Besides, the camera features for this Xiaomi's smartphone include ISO control, Digital Zoom, Auto Flash, Face detection, Touch to focus, High Dynamic Range mode (HDR), LED Flash, and Video Recording.
Battery and Internal Memory: As far as the battery is concerned, the mobile device is backed by 4000 mAh of battery. The Xiaomi devices always come with powerful battery back and Redmi Note 7 is not an exception. With such powerful battery backup, one can use this mobile phone for a whole day without battery getting discharged. Coming to the internal storage aspect, the handset is equipped with 32GB of internal storage to save their precious data files including images, videos, etc. And if one needs more space, they can expand the storage further up to 256.
Network Connectivity: Coming to the network connectivity, the Redmi Note 7 comes with multiple numbers of connectivity options. Apart from dual SIM slots, other connectivity options are:
GPS
USB charging
Wi-Fi
Wi-Fi Direct
Bluetooth
4G with VoLTE
Micro USB 2.0
Comparison between Redmi Note 7 and Redmi Note 6
| | | |
| --- | --- | --- |
| Features | Redmi Note 7 | Redmi Note 6 |
| Display | 6.3-inch full HD+ Display | 5.99-inch full HD+ Display |
| Primary Camera | 12-MP+2-MP dual Camera | 12-MP+5-MP dual Camera |
| Secondary Camera | 13-MP front Camera | 8-MP front Camera |
| RAM | 3GB | 4GB |
| Internal Memory | 32GB (expandable) | 64GB |
| Battery | 4000 mAh high-capacity battery | 4000 mAh high-capacity battery |
Pros

✔ Large display
✔12-MP with PDAF functionality
✔Good Performance
Other smartphones in similar price range to Redmi Note 7 include:
Xiaomi Redmi Note 5 Pro 6GB RAM Price
Apart from Redmi Note 7, other upcoming mobile phones that are worth waiting for:
Xiaomi Redmi Note 7 (6.3 inch + 3GB RAM) Price Comparison
Specification and features of Xiaomi Redmi Note 7 (6.3 inch + 3GB RAM)
| | |
| --- | --- |
| Resolution Pixels | 2340 x 1080 pixels present |
| Resolution Type | Full HD Plus |
| Size | 6.3 inch |
| Display | IPS Type Display |
| Pixel per inch (Density) | 409 ppi Density |
| Touchscreen Mode | Capacitive Mode Touchscreen |
| Color Depth | 16M Colors Depth |
| | |
| --- | --- |
| Exterior Dimensions | 75.2 x 159.2 x 8.1 mm in dimension |
| | |
| --- | --- |
| Loaded OS | Android Loaded |
| | |
| --- | --- |
| Main Rear Flash | Yes Flash |
| Front Selfie Flash | Not Flash |
| Primary Camera | 12 MP + 2 MP Camera |
| | |
| --- | --- |
| Internal Storage | 32 GB available |
| RAM Available | 3 GB RAM |
| | |
| --- | --- |
| Type of Battery | Li-Polymer Type |
| Charge Capacity | 4000 mAh |
| | |
| --- | --- |
| Bluetooth Option | Yes available |
| Wi-Fi modes | Yes available |
| Network Type | 4G |
| SIM Type | Dual |
| | |
| --- | --- |
| Model | Snapdragon 660 |
| Architecture Type | 64 Bit processor architecture |
| Processor Cores | Octa Core |
| | |
| --- | --- |
| Proximity Sensor | Yes present |
| Accelerometer Sensor | Yes present |
| Gyroscope Option | Yes present |
| | |
| --- | --- |
| Fingerprint Unlock | Yes present |
| Face Unlock | Yes present |
| Dual Rear Camera | Yes present |
| Dual Front Camera | Yes present |
| | |
| --- | --- |
| Loudspeaker Mode | Yes present |
| Headphone Mode | Yes present |
View More
Expert Reviews
Overview
The upcoming Redmi Note 7 is a promising mobile phone that is ready to launch with striking features including great performance, quality camera, decent storage, good battery life and average RAM for device's overall performance. With such striking features, this handset of Xiaomi will be beast that can make other smartphones run for their money. As if now, the Chinese mobile phone manufacturer company has not yet declared the launch date of this handset, however, we can expect it to be launched at the beginning of the next year.
With Redmi Note 7, the Xiaomi will bring an updated Snapdragon processor to ensure smooth functioning of the device. From its successor Redmi Note 6, this upcoming device will have a 6-inch display with gorilla glass protection, water-resistant, dustproof and other amazing features. On the photography front, the handset will have a dual camera of 48-MP+8-MP dual Camera, enhancing one's photography skills. For selfie lovers, the handset offers a 16-MP front-shooter camera. Users can also make use of LED flash while clicking images in the low-light environment. Moving to its performance, the handset is backed by 4GB RAM and 4100 mAh powerful battery.
With so many things on the board, it's hard not to recommend the upcoming Redmi Note 7. Xiaomi has not yet confirmed about the device's price. If the smartphone is available at the approximate price range of 18,900 INR, it can give strong competition to its competitors. As Xiaomi is bringing hi-tech devices at economical rates, other brands need to revamp to sustain against Xiaomi mobile phones, especially in the Indian market.
News
Xiaomi aims to sell 1 million Units of Redmi Note 7
15th January 2019
A much awaited, Redmi Note 7 with a 48 MP camera setup sold in few minutes in its first flash sale in China. As per Xiaomi's representative, the company sold around 100,000 devices within 9 minutes and now aiming to push 1 million units by the end of this month. The next flash sale is scheduled for January 18. Besides, the phone is like to hit the Indian market in the coming days.
Redmi Note 7 with 48MP launched
10th January 2019
With 48-megapixel and Snapdragon 660, the Xiaomi Redmi Note 7 launched in China and is expected to be available in the Indian market soon. Apart from a 48MP camera, it has Xiaomi's night mode feature for better images in low light conditions. In China, the mobile phone's starting price is 999 yuan, whereas in India, it is expected to be available at the price tag of 10,500 approximately. As per the company's announcement, the Note 7 is Xiaomi's first note device that comes with a water-drop notch.
Compare Xiaomi Redmi Note 7 (6.3 inch + 3GB RAM)
Frequently asked questions about Xiaomi Redmi Note 7 (6.3 Inch + 3GB RAM)
?
Does it support Facebook or WhatsApp ?
Yes, it is a Smartphone. It has the App store from where all the published Apps including, Facebook, WhatsApp can be downloaded. You need either data connection or WiFi.
?
Is video calling possible with this device ?
Yes, the device is capable of Video Calling. Being a smartphone, all the video calling apps can be downloaded from App store and be used. All you need is a good data connection or a good Wi-Fi.
?
Can I update it to the latest version of the OS ?
Yes, being a smartphone, the advantage of this device is that it can be updated to latest OS. However, the latest OS to be used should be from the manufacturer only.
?
Is the device water-proof ?
Yes, the phone is designed to be a water resistant phone. It can take light spills. However, full drenching in water will damage it.
?
Is Xiaomi Redmi Note 7 dust resistant ?
Yes, it is designed to be dust resistance. Users are advised to keep the phone clean and away from dust to avoid damage to sensitive parts.
Get Discounts ! Latest Deals ! Allow Notifications to Stay Informed !!!
❌