Samsung Galaxy S10 512GB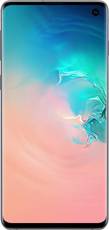 Rs 69,910
Rs 76,900
Product Key Features
16 MP + 12 MP + 12 MP rear, 10 MP selfie Camera
3400 mAh Battery
Samsung Exynos 9 Octa 9820 Processor
8 GB RAM, 512 GB ROM
Android 9.0 pie
Dual Sim
Samsung Galaxy S10 512GB Price Comparison
Specification and features of Samsung Galaxy S10 512GB
| | |
| --- | --- |
| Display Resolution (Pixels) | 3040 x 1440 pixels |
| Resolution Type | Quad HD Plus |
| Screen Size (measured in inches) | 6.1 inch |
| Display Type (Six types of displas are available in the market of which, Super AMOLED, OLED displays are most popular due to better color reporduction) | Super AMOLED Type Display |
| Pixel Density ( Called Pixels per inch or ppi. A higher pixel density per inch on a display offers better sharpness and clarity.) | 550 ppi Density |
| Touchscreen type (There are two types of touchscreen technologies that are used in mobiles - Resistive and Capacitive) | Capacitive Mode Touchscreen |
| Color Reproduction | 16M colors Depth |
| Screen to body percentage | 87 % |
| | |
| --- | --- |
| Dimensions (mm) | 70.4 x 149 x 7.8 mm |
| | |
| --- | --- |
| Operating System (It is a software that allows smartphones to run apps, programs, etc. Android dominates the mobile OS with over 75 percent market share followed by Apple iOS) | Android |
| | |
| --- | --- |
| Main Rear Flash | Yes |
| Front Selfie Flash | No |
| Rear Camera | 16 MP + 12 MP + 12 MP |
| | |
| --- | --- |
| Internal Storage | 512 GB |
| RAM | 8 GB |
| | |
| --- | --- |
| Battery Type | Li-ion Type |
| Battery Capacity | 3400 mAh |
| | |
| --- | --- |
| Bluetooth Option | Yes |
| Wi-Fi modes | Yes |
| Network Type | 4G |
| SIM Type | Dual |
| | |
| --- | --- |
| Chipset (SoC) | Samsung Exynos 9 Octa 9820 |
| Architecture Type | 64 bit processor architecture |
| No of Cores (Dual, Quad, Octa) | Octa Core |
| | |
| --- | --- |
| Proximity Sensor | Yes |
| Accelerometer Sensor | Yes |
| Gyroscope Option | Yes |
| | |
| --- | --- |
| Fingerprint Unlock | Yes |
| Face Unlock | No |
| Dual Rear Camera | Yes |
| Dual Front Camera | No |
| | |
| --- | --- |
| Loudspeaker Mode | Yes |
| Audio/Headphone Jack | Yes |
View More
News
Samsung Galaxy S10 5G Smartphone launched.
Here you go on the much-hyped 5G. Though the networks are not yet rolled out fully across the globe for 5G, but the dog fight has already begun. Samsung draws first blood out of the fight with the launch of its first 5G Smartphone Galaxy 5G in their home country Korea. 
Read More
Compare Samsung Galaxy S10 512GB
Product Reviews at IndiaShopps
Get Discounts ! Latest Deals ! Allow Notifications to Stay Informed !!!
❌