Samsung Galaxy On8 (6 Inch + 4GB RAM)
Overview

Prices

Details

Specs

Compare

FAQs
Samsung Galaxy On8 (6 inch + 4GB RAM)
4.4 Out of 5 stars ( 9104 Ratings )
Like other devices of Samsung, Samsung Galaxy On8 (6 inch + 4GB RAM) is another masterwork that defines a true value for money. Powered by 1.5 GHz, the device runs on Android, paired with 4 GB of RAM. For photography, the handset has a 16 MP rear camera and a 16 MP front-facing camera. Flaunting a 6-inch IPS LCD display , the smartphone comes with pixel resolution of 720x1440 pixels and 396 pixels per inch (ppi). Above all, the device is supported with a powerful battery backup of 3500 mAh battery and 64 GB of internal storage space. Compare and buy Samsung Galaxy On8 (6 inch + 4GB RAM) online at the best prices, and get delivered anywhere in India including the metro cities like Delhi, Mumbai, Jaipur, Chennai, Chandigarh, and others.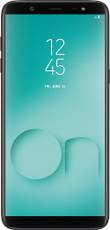 Rs 12,990
Product Key Features
Screen Size : 6.0 inch
Total RAM : 4 GB
Internal Memory : 64 GB
Operation System : Android 8.1
Samsung Galaxy On8 (6 inch + 4GB RAM) Details
As per the recent trends, the Samsung brings Samsung Galaxy On8 in the market with the up-to-date features. We usually look for different colors that to match our personality. So, the smartphone is providing the Black and Blue color to offer choices at a reasonable price. Let's discuss more features of the handset: 
Screen: The display is an important factor while buying a smartphone. The phone has the dashing IPS LCD display of 6.0 inches that is beautifully coupled with the screen resolution of 720x1440 pixels. Moreover, it has 396 pixels per inch density to provide the best image quality. To manage the color transparency between the images, the device is designed with the 16M color depth.
Storage: Before buying a smartphone, people are focusing more on storage for saving the files and documents. The cell phone is having a built-in storage of 64GB that can store around 9300 photos or 33 movies, depending on the size of the file. In addition, you have the option to expand the internal storage to 256GB with the help of MicroSD card. You are also getting the 4GB RAM to carry out the entire task successfully.
Software and Processor: The phone is fortified with the Android v8.1 Oreo as the operating system that speeds up the operation of the product. The Qualcomm Snapdragon 450 chipset is combined with the octa-core processor to increase the response time of the phone.
Camera: This model of Samsung has aimed more towards the camera. The phone is having the dual primary camera of 16MP+ 5MP that is present with the flash to make the photos more clear. On top of that, the front camera of 16MP allows clicking the outstanding selfies with various effects. The other hidden features of the camera are background blur, portrait mode, video mode, gesture click, and many more.
Battery and Connectivity: The mobile phone is fixed by the Li-ion battery of 3500mAh which provides the talk time of 15-20 hours if you are continuously using various applications like Facebook, WhatsApp, etc. The connectivity options present in the device are Bluetooth, Wi-Fi, GPS, 3G mode, USB, 2G mode, 4G mode, etc.
Extra Features: The extra specs available in the mobile phone are a proximity sensor,  gyroscope option, ambient light mode, fingerprint sensor, loudspeaker mode, headphone mode, and accelerometer sensor. The pattern, pin, and password option are available in Samsung Galaxy On8 to guard your phone.
Samsung Galaxy On8 (6 inch + 4GB RAM) Price Comparison
Specification and features of Samsung Galaxy On8 (6 inch + 4GB RAM)
| | |
| --- | --- |
| Resolution Pixels | 720x1440 pixels present |
| Display | IPS LCD Type Display |
| Screen Size (inches) | 6.0 inches screen |
| Pixel per inch (Density) | 396 pixels per inch (ppi) Density |
| Touchscreen Mode | Capacitive Mode Touchscreen |
Loaded OS
Android OS, v8.1 (Oreo) Loaded
| | |
| --- | --- |
| Main Rear Flash | Yes Flash |
| Front Selfie Flash | Not present |
| Primary | Dual (16 M.Pixels + 5 M.Pixels) |
| | |
| --- | --- |
| Internal Storage | 64GB available |
| RAM Available | 4GB RAM |
| | |
| --- | --- |
| Type of Battery | Li-Ion Type |
| Charge Capacity | 3500 mAh |
| | |
| --- | --- |
| Bluetooth Option | v5.0 available |
| Wi-Fi modes | Yes with hotspot available |
| 3G Mode | Yes present |
| USB Version | Type C |
| VoLTE option | Yes present |
| 2G Mode | Yes present |
| 4G Mode | Yes present |
| SIM Type | Dual SIM |
| GPS Availability | Yes present |
| NFC Present | Not present |
| | |
| --- | --- |
| Chipset | Snapdragon 450 |
| Processor Cores | 8 (Octa Core) |
| | |
| --- | --- |
| Proximity Sensor | Yes present |
| Accelerometer Sensor | Yes present |
| Gyroscope Option | Yes present |
| Ambient Light Mode | Yes present |
| | |
| --- | --- |
| Loudspeaker Mode | Yes present |
| Headphone Mode | Yes present |
View More
Compare Samsung Galaxy On8 (6 inch + 4GB RAM)
Frequently asked questions about Samsung Galaxy On8 (6 Inch + 4GB RAM)
?
Does it support Facebook or WhatsApp ?
Yes, it is a Smartphone. It has the App store from where all the published Apps including, Facebook, WhatsApp can be downloaded. You need either data connection or WiFi.
?
Is video calling possible with this device ?
Yes, the device is capable of Video Calling. Being a smartphone, all the video calling apps can be downloaded from App store and be used. All you need is a good data connection or a good Wi-Fi.
?
Can I update it to the latest version of the OS ?
Yes, being a smartphone, the advantage of this device is that it can be updated to latest OS. However, the latest OS to be used should be from the manufacturer only.
?
Is the device water-proof ?
Yes, the phone is designed to be a water resistant phone. It can take light spills. However, full drenching in water will damage it.
?
Is Samsung Galaxy On8 (2018) dust resistant ?
Yes, it is designed to be dust resistance. Users are advised to keep the phone clean and away from dust to avoid damage to sensitive parts.
Get Discounts ! Latest Deals ! Allow Notifications to Stay Informed !!!
❌