Samsung Galaxy Note 10 Plus
Samsung Galaxy Note 10 Plus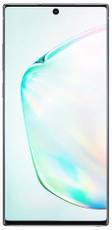 Rs 79,999
Rs 79,999
Product Key Features
Screen Size : 6.8 inch
Total RAM : 12 GB
Internal Memory : 256 GB
Rear Camera : 12 MP + 12 MP + 16 MP
Front Camera : 10 MP
Battery Capacity : 4300 mAh
Samsung Galaxy Note 10 Plus Price Comparison
Specification and features of Samsung Galaxy Note 10 Plus
| | |
| --- | --- |
| Display Resolution (Pixels) | 3040 x 1440 Pixels |
| Resolution Type | QHD Plus |
| Screen Size (measured in inches) | 6.8 inch |
| Display Type (Six types of displas are available in the market of which, Super AMOLED, OLED displays are most popular due to better color reporduction) | Super AMOLED Type Display |
| Pixel Density ( Called Pixels per inch or ppi. A higher pixel density per inch on a display offers better sharpness and clarity.) | 498 ppi Density |
| Touchscreen type (There are two types of touchscreen technologies that are used in mobiles - Resistive and Capacitive) | Capacitive Mode Touchscreen |
| Color Reproduction | 16M colors Depth |
| Screen to body percentage | 91.6 % |
| | |
| --- | --- |
| Dimensions (mm) | 77.1 x 162.3 x 7.9 mm |
| | |
| --- | --- |
| Operating System (It is a software that allows smartphones to run apps, programs, etc. Android dominates the mobile OS with over 75 percent market share followed by Apple iOS) | Android |
| | |
| --- | --- |
| Main Rear Flash | Yes |
| Front Selfie Flash | No |
| Rear Camera | 12 MP + 12 MP + 16 MP |
| | |
| --- | --- |
| Internal Storage | 256 GB |
| RAM | 12 GB |
| | |
| --- | --- |
| Battery Type | Li-ion Type |
| Battery Capacity | 4300 mAh |
| | |
| --- | --- |
| Bluetooth Option | Yes |
| Wi-Fi modes | Yes |
| Network Type | 4G |
| SIM Type | Dual |
| | |
| --- | --- |
| Chipset (SoC) | Samsung Exynos 9 Octa 9825 |
| Architecture Type | 64 bit processor architecture |
| No of Cores (Dual, Quad, Octa) | Octa Core |
| | |
| --- | --- |
| Proximity Sensor | Yes |
| Accelerometer Sensor | Yes |
| Gyroscope Option | Yes |
| | |
| --- | --- |
| Fingerprint Unlock | Yes |
| Face Unlock | No |
| Dual Rear Camera | Yes |
| Dual Front Camera | No |
| AI Assiantance | No |
| Water-Resistance | Yes |
| Waterdrop Notch Display | No |
| Punch-hole Display | Yes |
| Optical Zoom | No |
| Quad Camera | No |
| USB Type-C | Yes |
| | |
| --- | --- |
| Loudspeaker Mode | Yes |
| Audio/Headphone Jack | Yes |
View More
News
Samsung Galaxy Note 10 Plus Real-Life Images Shows Centre Punch-Hole Camera
As we already know, Samsung is preparing to launch its Galaxy Note 10 series. Ahead of the launch, a YouTube channel named TechTalkTV has leaked the first real-life images of the upcoming Samsung Galaxy Note 10+.
Read More
Compare Samsung Galaxy Note 10 Plus
Product Reviews at IndiaShopps
Get Discounts ! Latest Deals ! Allow Notifications to Stay Informed !!!
❌