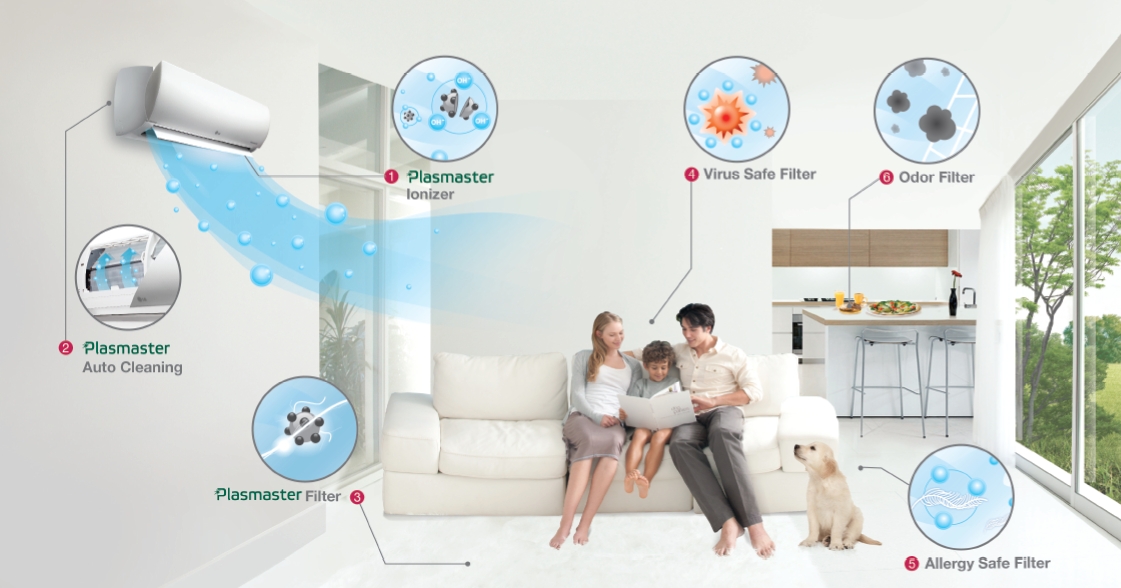 Why do we need Inverter AC's? You might brood upon this question once you have decided to buy an air conditioner. However, before you start over thinking listen to what the Bureau of Energy Efficiency has to say about this variant. According to their experts, the efficiency of any Inverter AC even with just a 3-star rating is much better than the normal split variants with a 5-star rating.
Now know the reason behind this increased efficiency. Unlike a Split AC, the Inverter AC modulates the speed of its compressor as per the temperature of the room. The compressor of any Inverter AC has the power to self adjust according to the heat load in the room and that is why you will not even notice that the compressor is running or not after the temperature becomes constant. Whereas the moment you turn off a Split AC, there is a sharp increase in the hotness of the room, thus adding to your discomfort.
Remember, Inverter ACs are just available only in split models, and that is why if you are looking for window air conditioners, then sorry you do not have much choice here. We here are providing you a list of best 1-ton Inverter air conditioners bthat has really impressed the Indians with their output:
Hitachi Kashikoi RAU512IWEA
This 1-ton inverter AC comes with a copper condenser and has a 5-star rating from BEE, which never let you a chance to regret. Hitachi Kashikoi RAU512IWEA has R410A refrigerant and comes in two choices 5.75 ISEER and 4.86 ISEER. Hitachi is one of the leading names in this domain and thus you do not have to worry much before investing in the same.
Samsung AR12MV5HETS
Samsung's smartly priced air conditioners are a favorite of many Indians. This variant comes with an aluminum condenser and has an impressive cooling capacity of 3200 W. Samsung AR12MV5HETS also has BEE 5-star rating to its credit and comes with a R410A refrigerant.
Blue Star 3CNHW12CAFU
Blue Star has earned its share of laurels through their highly competent product. Their air conditioners have a strong customer base in India and thus their Inverter AC's have received huge acceptance. With a 3-star rating From BEE, Blue Star 3CNHW12CAFU is worth checking out. This 1-ton Inverter air conditioner has a cooling capacity of 3390W, comes with a R410A refrigerant, and has 3.86 ISEER.
LG JS-Q12AUXA 1Ton 3S
Life is no doubt all-good with LG. Sensible pricing and fabulous products is what adds to the brand's popularity. LG JS-Q12AUXA 1Ton 3S model is also a 1-ton Inverter AC that is loaded with a copper condenser and R410A refrigerant. It also has BEE 3-star rating and one of the best air conditioners under this category.
Carrier CAI12ES3C8F0
Carrier is known for their splendid range of air conditioners. So if you too are loyal to this brand then just go for their 1-ton inverter model. Carrier CAI12ES3C8F0 comes with a 3-star rating from BEE, cooling capacity of 1100W and has a copper condenser.
So now, when you have the list of the best, make no haste in deciding upon your purchase. Take your time and be a wise shopper.