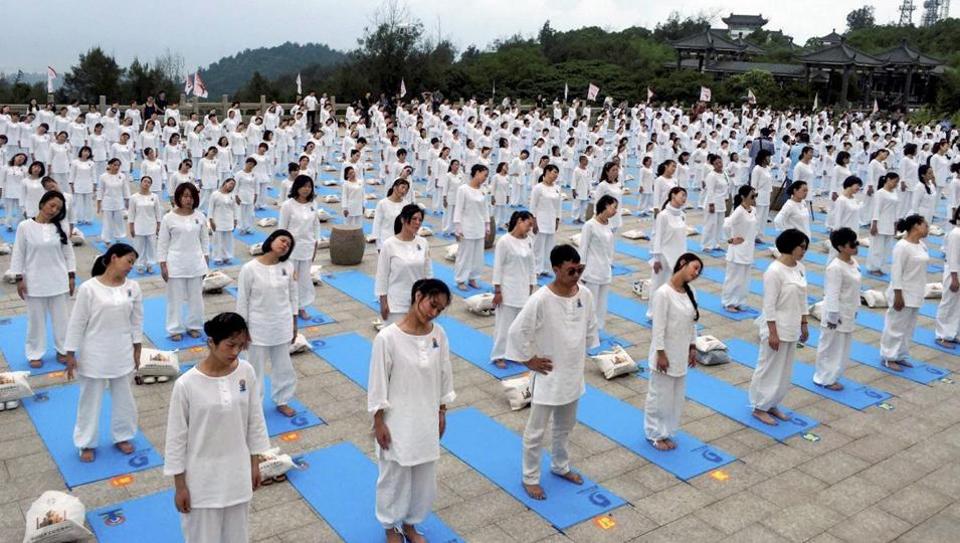 What is Yoga?
It is a system of exercises practiced to promote control of the body and mind. It is made of several Hindu disciplines aimed at training the consciousness for a state of perfect spiritual insight and tranquility. It is a way of living that aims towards 'a healthy mind in a healthy body'. Man is a physical, mental and spiritual being; yoga helps promote a balanced development of all the three. Other forms of physical exercises, like aerobics, assure only physical well-being. In simple words, Yoga is a physical, mental and spiritual practice attributed mostly to India.
Origin of International Yoga Day
It was all started on 27 September 2014, when the Prime Minister of India, Mr. Narendra Modi first proposed the idea of an International Day of Yoga during his speech at the UNGA. After this initial proposal of Mr. Narendra Modi, on 14 October 2014, the UNGA held informal consultations on the draft resolution entitled "International Day of Yoga". The consultations were convened by the delegation of India. On 11 December 2014, India's Permanent Representative Asoke Mukherji introduced the draft resolution in UNGA. The draft text received broad support from 177 Member States who sponsored the text, which was adopted without a vote. This initiative found support from many global leaders. A total of 177 nations co-sponsored the resolution, which is the highest number of co-sponsors ever for any UNGA resolution of such nature. Modi ji proposed 21 June as the date because the date was the longest day of the year in the northern hemisphere (shortest in the southern hemisphere), having special significance in many parts of the world.
Words of Mr. Narendra Modi in UN General Assembly
PM Narendra Modi stated, "Yoga is an invaluable gift of India's ancient tradition. It embodies unity of mind and body; thought and action; restraint and fulfillment; harmony between man and nature; a holistic approach to health and well-being. It is not about exercise but to discover the sense of oneness with yourself, the world and the nature. By changing our lifestyle and creating consciousness, it can help in well-being. Let us work towards adopting an International Yoga Day".
Success of International Day of Yoga
On 21 June 2015, the first International Day of Yoga was observed all over the world. The Ministry of AYUSH made the necessary arrangements in India. Around 36,000 people, including Narendra Modi and a large number of dignitaries from 84 nations, performed 21 yoga asanas (postures) for 35 minutes at Rajpath in New Delhi. The day devoted to yoga was observed by millions across the world. On 2016's International Day of Yoga, a senior government official said, "The government of India has decided to take forward the momentum created by International Day of Yoga, 2015 with greater and more active participation of youth during the current year celebrations. The ministry organized an event titled "The National Event of Mass Yoga Demonstration" at Chandigarh, which was to be attended by the Indian Prime Minister. On 21 June 2017, 72 students and teachers from the City Montessori School of Lucknow will be representing India by performing yogic exercises at the United Nations Headquarters in New York on the occasion of International Day of Yoga.
Objectives of International Day of Yoga
Yoga has many health benefits. It is adopted to fulfill and to make one's life better. It makes people aware about the natural benefits of Yoga. It allows people to connect with nature. It draws the attention of people towards the benefits of Yoga. It helps in reducing the rate of health challenging diseases all over the world. It brings communities closer together to spend a day devoted to good health way from their busy schedules.
Conclusion
In this world full of stress, we need to give ourselves a little break and that break is Yoga. It helps in making our life better. International Yoga Day is a medium, so that people at least give a day from their busy life to Yoga. It improves our personality and it teaches us disciplines.