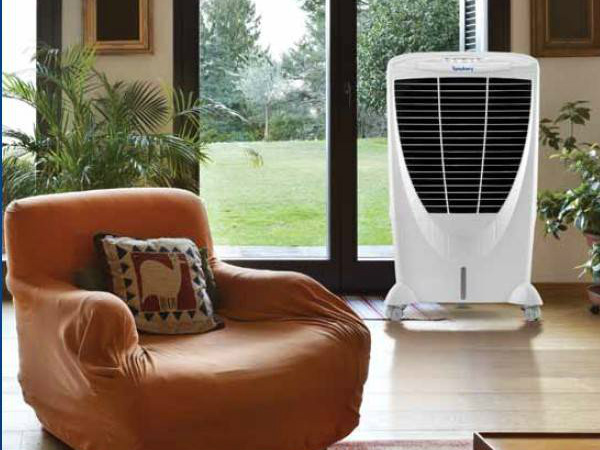 Air coolers are very essential devices for the places that experience dry summer climate. They are the most environmental friendly and money saving things to be used for common people. It's very confusing to pick up the right air cooler for yourself. The market is crowded with a plenty of options. Different brands are built with different features. In this article our aim is to discuss the few factors that we must consider before buying an air cooler.
Evaporative cooling is involved in the air cooler. The cooling here is as effective as in the case of air conditioner or refrigerator. Fresh air is pulled from outside and driven through the wet cooling pads inside the device. After the water is evaporated from the pads, the air coolers bring cool air and the temperature is dropped.
Different types of air coolers
Desert air coolers and personal air coolers are the two most popular types of air-cooling systems used widely in all climates. Personal air coolers are for hot humid climate, whereas desert air coolers are for dry regions. Personal air coolers consume less energy and are quieter with smaller water tanks than desert air coolers. The desert air coolers cool big areas but personal air coolers are for small rooms.
Key features to consider before buying air coolers
Here are some of the factors that you must consider before buying one.
Water tank capacity should be kept in mind before buying one. Large water tanks are better to be purchased. Air coolers run more with larger water tanks. Both desert type and personal air coolers are available in wide ranges of water tanks.
The types of cooling pads effect on the performance of the air coolers. Cooling is better with thicker pads. Aspen and cellulose materials make the cooling pads. Cellulose pads are more expensive but they are more durable than aspen ones.
Airflow is measured in CFM. It means the amount of air cycled into your room per minute. It is better to buy an air cooler that is perfectly sized for your room. Air flow depends on the blower of the fan. Air coolers with automatic functionality help in better airflow and control the temperature of the room. Desert air coolers for larger rooms must have this feature.
Modern features to look for
Firstly we must consider the design of the air coolers. Air coolers are actually bigger in size and do not have fashionable looks. But today there are many brand new models manufacturing slim and stylish designed devices which will go with the aesthetics of your house. They occupy less space while work with great efficiency. If you're willing to shift the device from one room to another, buy with castor wheels. These enables smooth movement from one place to another. Secondly buy air coolers that come with remotes, so you can easily control the fan speed without getting up several times. Finally purchase energy saving air coolers that can run with inverters. No more tension during power cuts now.
This is a brief guidance for buying the right air cooler for you. Buy a model that's perfectly fit for you in all respects.