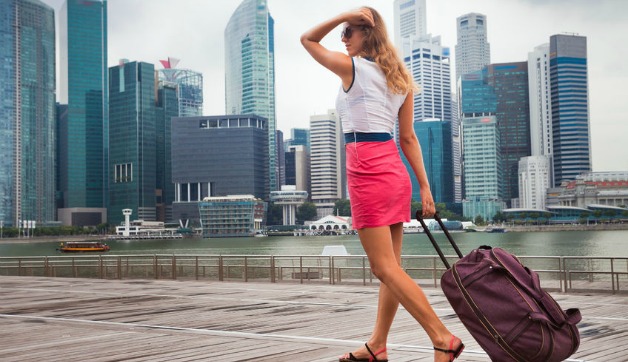 Packing is the best part of any trip. It doesn't matter where you are planning to venture out this summer. But make the packing part fill with lots of fun. It's better to leave most of your black dresses at home. Carry colorful seasonal prints and put the hottest sunglasses in your backpack. If one is counting down the days left to jet off to an island and is not able to decide which dresses to pack up in their suitcase, here is a guideline to make your task easy. The most gorgeous and smartest outfits from the top fashion influencers are enlisted to make you feel trouble free while moving out.
Whether you like to go to the beach or a calm and quiet island or hillsides, just try out the new look within yourselves with the most comfortable attire.
 Amalfi coast, Italy
One can go for airy separates in light fabrics and pack a bag big enough to carry all the necessary belongings. But it should be light enough for you to carry it all day long. The espadrille flats are very comfortable and are perfect for roaming about while exploring.
 New York City
If one is going on a vacation to New York, choose vibrant colors as the New Yorkers as renowned for wearing black dresses all the time. One can put on a bright skirt or pair of shoes to personalize your look.
 Bali
While being on a vacation, one can put on everything she likes. It can be a boho top with plunging neckline with heels.
 Barcelona, Spain
Here one can try a pair of fringe embellished shorts. Have fun with print mixing and patterned pieces can be thought of as neutrals. One will be surprised to see the eye-catching outfits coming together at the last moment.
Sri Lanka
Maxi black skirt is a must dress while traveling for this place as it goes with almost everything.
California
One should not forget to wear a headwear here. A head wrap can be made with a scarf or top with a wide-brimmed fedora. The outfits are incomplete without the accessories. Off shoulder dresses and lightweight rompers can also be included. Birkenstock or go to sliders are also very trendy.
Italian Riviera
Women can pack open back tops or dresses having plunging necklines for going around the city at nights. One is going to look the most romantic wearing these. Sandals in a neutral are easy and comfortable to wear and go with every outfit in your bag. Floral fits are perfect at every spot be scenic cities or relaxing beaches. A stark bohemian dress with lace-up gladiator sandals just ground one's look.
 Maldives
 A lady will definitely feel herself like a princess wearing a flouncy dress with ruffles even if she is not wearing a ball gown.
 Tulum, Mexico
A flouncy floral top is the most eye-catching. One can wear a striped cardigan over the swimsuit to cover up on cool nights.
Following these suggestions, one can definitely enjoy the vacation extraordinarily.