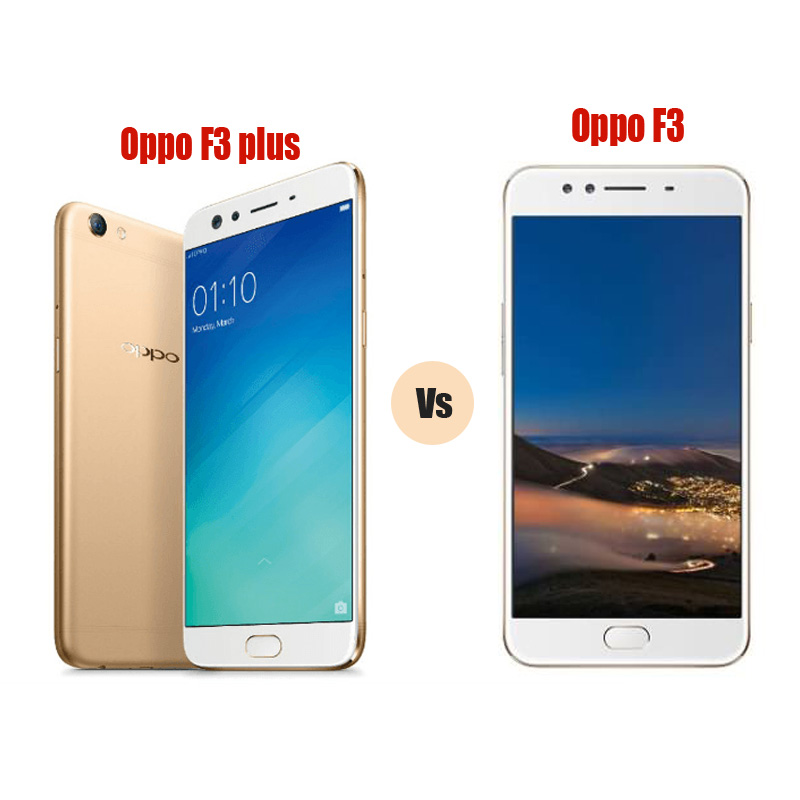 Oppo has been trying to make its name in the mobile industry since its entry. Considering the ever growing competition with these Chinese mobile makers, who never seem to run out of ideas and only offer low budget phones, it becomes a major challenge for companies like Oppo to gain regular customers. The company is known for manufacturing mid-ranging and not low budget smart phones; take example of Oppo F3 Plus Price in India. Two of the most awaited products of Oppo; F3 Plus and Oppo F3 will be launched around March.
OPPO F3 PLUS Vs OPPO F3
Prize
Oppo F3 Plus Price in India, is expected to start from Rs 28,999, whereas Oppo F3's expected price ranges betweenRs17, 999 to 24,500. Both these devices can be considered in the higher ranges, but are providing a few features to actually make the devices worth the amount.
Display
Oppo F3 Plus Price in India, promises you the best, sleek and stylish look for the device. It comes with a 6 inch multi touch screen with 16 M color display, which is protected by corning gorilla glass 5, which ensures minimum screen damage, even during the falls. The rumors suggest that Oppo F3 will also have all of your favorite features along with a super HD AMOLED display. It is being expected that the company will be launching the device in multiple colors including rose gold and jet black.
Performance
By paying the set Oppo F3 Plus Price in India, you can stay assured that you will indeed get all the latest features and technology that is currently doing the rounds in the mobile industry. Oppo F3 Plus and Oppo F3 both run on Android v6.0. Oppo F3 uses Qualcomm Snapdragon 652 which will be backed by its Octa core processor of 1.8 GHz. It has a 4GB RAM, which comes with a built in memory of 64 GB, which is expandable up to 128 GB. Oppo F3 Plus, as the name suggest adds more features as it works on Qualcomm Snapdragon 653 Pro and Octa core processor of 1.95 GHz with a 6 GB RAM and is available in internal storage Variant of 128 GB which is expandable up to 256 GB.
Camera
Both the Smartphones come with a 16 MP primary camera with LED flash and auto focus. They both contribute to a similar design even in their dual front camera which consists of a 16 MP and 8 MP camera lenses. However, considering Oppo F3 Plus Price in India, which is set higher than Oppo F3, it is expected to provide better quality, or might include some other advance features. The credibility of their documented features can only be verified once they are launched in the market. Some of other features that they would have, include; digital zoom, HD video recording, auto focus, touch focus and face detection.
Key Features
Both phones will come with all the basic connectivity features like Bluetooth, WLAN, radio, audio jack 3.5mm, USB type C, GPS, 4G VoLTE and hybrid SIM 2 port. They also support light sensor, proximity sensor, accelerometer, and compass. However because of Oppo F3 Plus Price in India, it is being speculated that the phone might include some more features or might comes with some extra inbuilt apps or technology. Both phones are said support a 4000 mAh Li-Polymer non removable battery with flash VOOC changing capability.
Verdict
Considering the fact that these two Smartphones haven't released yet, and have managed to create so much buzz around, might turn out to be a great selling point for them. Oppo F3 Plus Price in India, is set at a higher amount than Oppo F3, which simply indicates that it has something better and more advanced than Oppo F3.It can either can be its camera, performance, user interface or just the product design. Nothing can be assured before their launch, now all we have to do is wait and watch for their reviews. Both products seem promising, but considering the available information and price, Oppo F3 is definitely the better choice as, they are both so similar that you get the same deal at a lower prize.