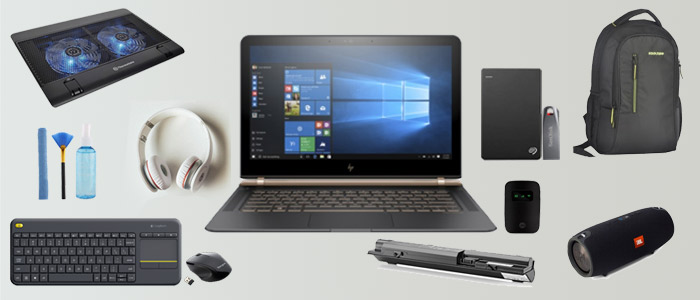 Most of us are in an impression that the vogue of a laptop is no more. However, it is still in the demand because of its ability to handle multiple things at the same time. The handheld devices like smartphones, tablets etc. can help you to fulfil all your day to day activities but cannot meet the flexibility that a laptop can provide. Furthermore, it is difficult for any other device to match the efficiency of a laptop. Other features that a laptop can provide over other devices are wide storage space, excellent processing speed, enhanced battery life, improved typing experience, and many more. To support the laptop's performance, we are equipped with numerous laptop essentials. Let's learn about a few of laptop's peripheral.
LAPDESK:
Lapdesk is the important essential for those who spend hours on laptops. It is designed to increase the overall performance and efficiency along with providing comfort to hold your laptop. The product is light-weighted so that you can carry it easily while travelling. There are different kinds of lapdesk available in the market with various features. You can choose the one as per the feasibility.
CLEANER TOOLKIT:
It is equally important to clean your laptop if you are using it on a daily basis. Laptop consists of various small pores where dust can accumulate and sometimes we find it hard to remove that dust. The cleaner toolkit helps you in cleaning your laptop. The best part is that the kit consists of disposable tissues so that you can easily clean your laptop screen every day.
EXTERNAL HARD DISK DRIVE:
Are you feeling short of storage in storing your favorite movies, games, or pictures? You can buy an external hard disk drive for your laptop. With this, you can easily store a large amount of valuable data. The hard drive has the capacity to store all the data of your laptop in one go. It helps to free up space from your computer and allows further storage in your laptop.
SECURITY DEVICE:
It is extremely important to protect your laptop from being stolen or misused by any other person. So, to protect the laptop from both internally and externally we take the help of a security device. To protect your laptop's internal data, you can take the help of anti-viruses such as Kaspersky, Norton, and a lot more. On the other hand, we are now equipped with cables and laptop docking stations to protect the laptop externally especially while travelling.