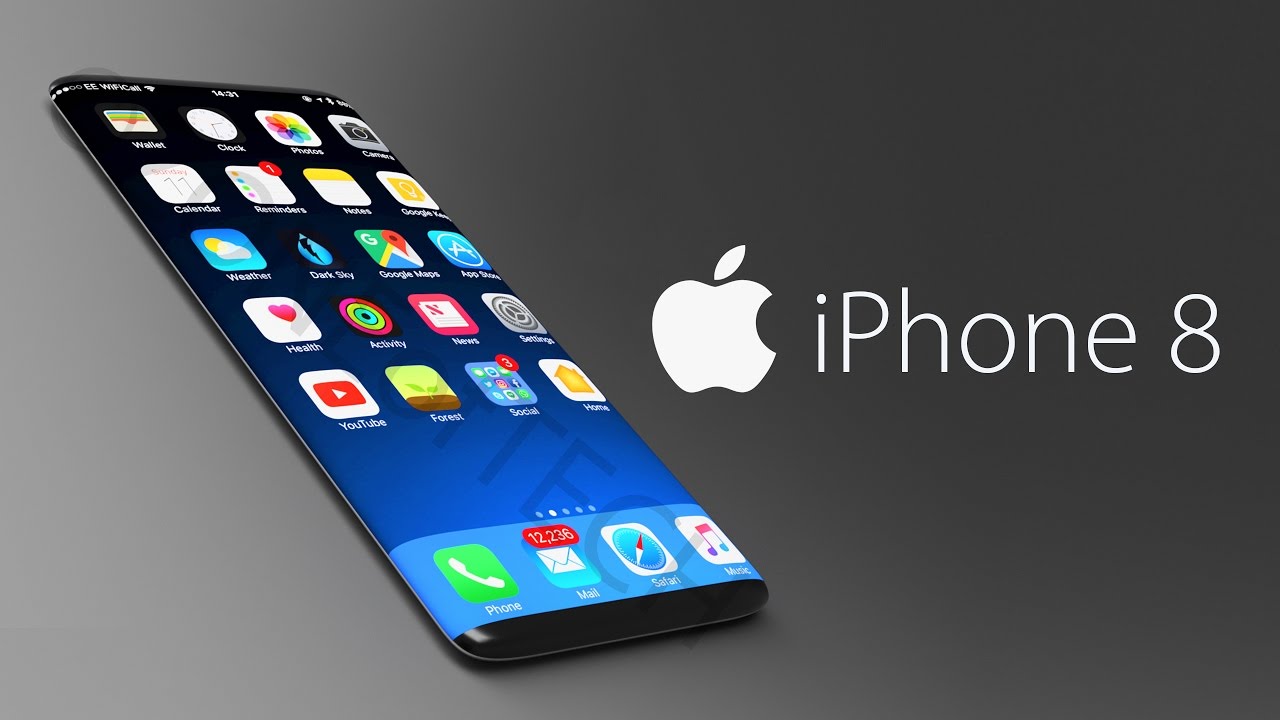 If you are planning to buy a new phone, start saving up your money because Apple is preparing to launch new iphone 8 and this time it's going to be different. Rumors suggest the iPhone 8 mobile will feature a radical redesign, with an edge-to-edge display that does away with the top and bottom bezels where features like the Touch ID fingerprint sensor and the front-facing camera are housed.
It's not official but sources said that this iPhone mobile will going to be the expensive from all, the expected price of this device will be more than 1000$. Most rumors suggest that there will be no physical home button; instead touch id will be built directly on the screen. Apple is going through some troubles in order to implement this touch ID system, but the company may have overcome those issues. With an edge-to-edge design, the iPhone 8 may be similar in size to the 4.7-inch iPhone, but with a display the size of the 5.5-inch iPhone.
Rumors suggest it will feature a 5.8-inch display with 5.15 inches of usable area, with the rest dedicated to virtual buttons that will replace the existing Home button. These features are true example of a standout phone. The iPhone is stepping into wireless charging field with this phone. The display itself is said to be flexible plastic OLED rather than an LCD, allowing Apple to introduce a thinner device that consumes less power and offers a better display with higher contrast ratio and more true to life colors. Early rumors suggested it could feature edges that are curved on both sides like the Samsung Galaxy S7 Edge, but it's looking more like it will have the same slightly curved 2.5D display that's display used in the iPhone 7 because Apple suppliers still have difficulty producing more curved displays.
As for the body apple is planning to give this phone a glass body unlike their previous models with aluminum finish, the glass will be built around a polished stainless steel frame that's similar in design to the Apple Watch. This type of body was last used on iPhone 4. Like the iPhone 7, iPhone 8 is also expected to be waterproof. Inside, the iPhone 8 is expected to have a 10-nanometer A11 chip that will be both faster and more efficient, plus rumors suggest it could also include features like wireless charging and biometric additions like iris, facial, or gesture recognition. In higher-end models with a dual-lens camera, both lenses are expected to feature optical image stabilization. Apple is exploring both a vertical rear camera for improved pictures and a dual-camera setup for the front-facing Face Time camera.
Talking about the launch, it is expected that Apple will launch its new phone in mid August or early September and we can't hold our excitement to see this new market killer.