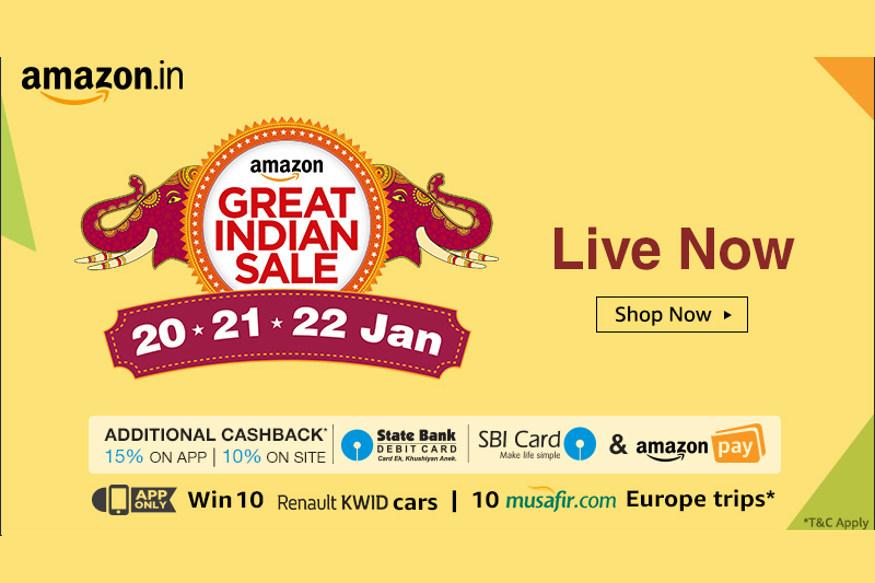 Amazon the Great Indian Sale 2017 has already started since last night and there has been much excitement among customers since then. Amazon has brilliantly opened the sale where it has featured a lot of hot deals, offers and hefty discounts. Every category of Amazon is loaded with huge discounts and there can't be any right time to shop other than this. These three days are the heaven for any shopaholic.
Amazon has showered its prime customers with some exclusive deals and there is a lot to grab if you are planning to buy smartphones. Yes, the right time is here, go on with a bang and just pick out any smartphone, which you have desired for moths.
The Amazon Great Indian Festival Sale has super economical smartphone offers on Moto G4 Plus, OnePlus 3T, Moto G4 Play, and the Moto X Force and more. Prime members of Amazon are sure to enjoy a treat for three days because there are special offers for them. The first such deal on Amazon is for Xiaomi Redmi 3S Prime. This deal was between 9:30 am to 10:30 am and the smartphone was available at just Rs 8,999.
Time to rejoice for all game lovers! Another deal is on Xbox One 1TB Console Tom Clancy's The Division Bundle and the Xbox One 1TB Console 3 Games Holiday Bundle, which will be offered at Rs. 24,990 each from 1.30 to 2.30pm.
All these exclusive deals will be accessible to prime members 30-minutes before non-prime members. Other deals of Amazon Great Indian Sale include the Moto G4 Plus (16 Gb) priced at Rs 11,499. Other variation (32 GB) of the same smartphone model is available at 13,999. The Moto X Force 32GB, on the other hand, has a huge discount of Rs. 5,000, and is can be brought to home in just Rs 21,999.
Moto G4 Play enjoys a discount of Rs 1000 and can be shopped at just Rs 7,999. The Lenovo Zuk Z1 received a discount of Rs. 2,500 and will be available at Rs. 10,999. Not just electronic products or gadgets, there are heavy discounts on kitchen & dining accessories, cameras, fashion products and what not.
And now hold your excitement because I am going to flabbergast you with something, which is no less than a JACKPOT! 10 lucky couples shopping through Amazon app during the Amazon Great Indian Sale are going to be surprised with a Europe trip package, of course all the expenses paid by Amazon. It's not the end of your happiness, 10 lucky customers have a chance to win one Renault Kwid card each during three days. So guys don't wait anymore, just try our lucks. Who knows, you may be that lucky one!
For the sale period Amazon has partnered with State Bank of India and the bank is offering 15% cashback is shopping via app and 10% via website. Isn't that super cool? Shopping via app will categorically save you a lot and will earn you attractive cashbacks. If you haven't installed the apps yet, do it right now and make the most of this amazing sale.
Bang On Peeps! All the Best!