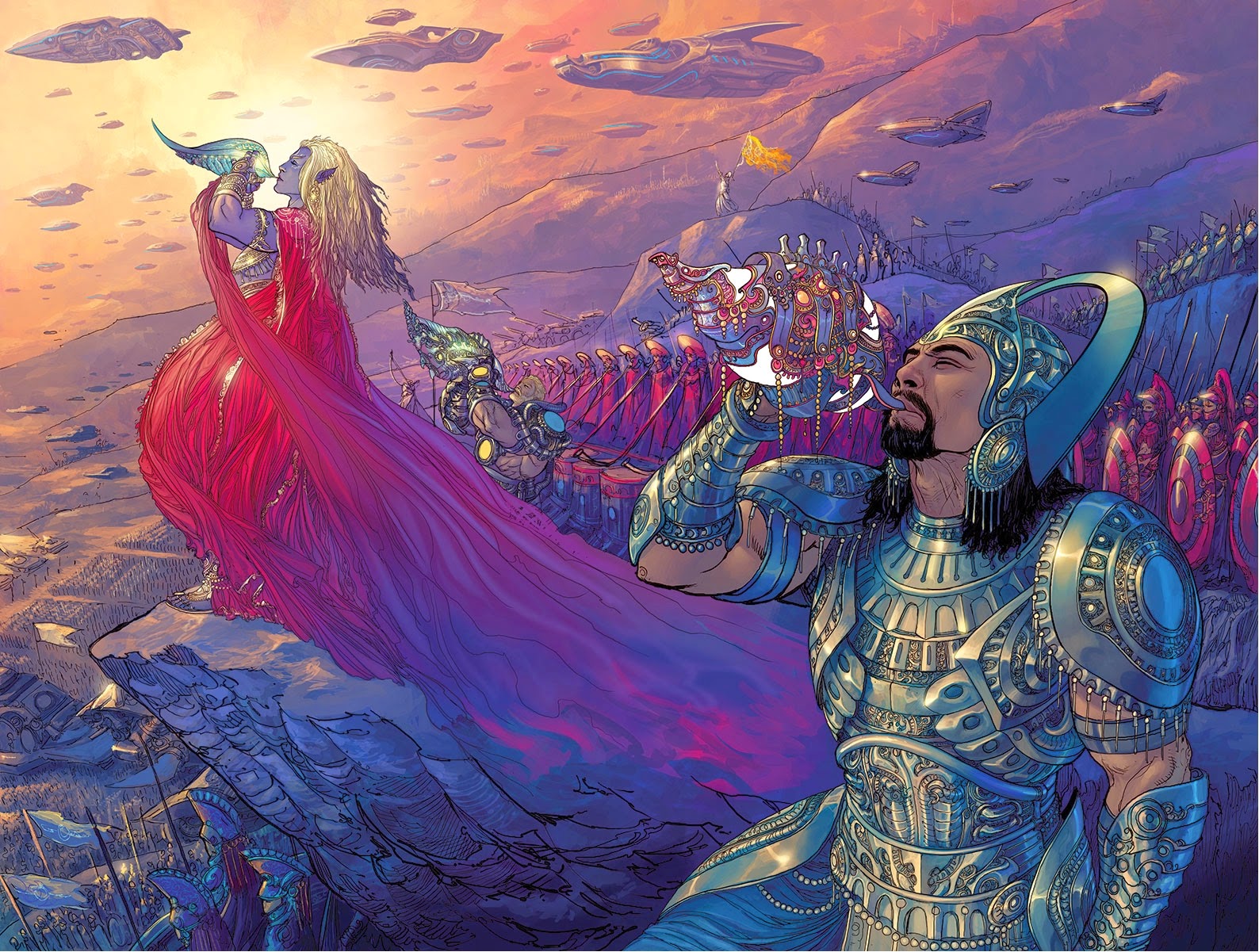 Nowadays everyone has started to believe that our Indian mythology was nothing but a piece of fiction. But some authors took initiative to make everyone believe again in Indian mythology. Research for a better story, facts about the characters, untold truth etc. told by these writers has made readers curious about what happened next. So hold on to your reading goggles for these must Indian mythology reads.
The Krishna Key by Ashwin Sanghi

This book goes back and forth from Krishna's birth and death. In modern time a man believes that he is the "Kalki Avatar" and goes on a killing streak to find the secret of Krishna. If want to know better about the great war Mahabharata from the perspective of Krishna himself then go for The Krishna key as research done by Ashwin Sanghi is commendable and facts presented by him is very accurate and believable.
The Shiva Trilogy by Amish Tripathi

Ever thought what would have happened if Shiva and Sati were human beings? Amish as described by the renowned director Shekar Kappor "literary pop star of India" wrote a beautiful tale about a man who later becomes a God, Shiva. Every famous characters of Indian mythology weaved beautifully in this book and the beauty of this trilogy is that every character is describes as a Human.
The Mahabharata Secret by Christopher C. Doyle

This too is about the Great War Mahabharata, this goes back and forth between 244 BC, the time of Ashoka and present, when the nephew of a retired scientist and his friend embark on a journey to find a secret, which people would kill to keep.

Asura

Tale of vanquished by Anand Neelakantan: Ever imagined what was going on in Raavan's mind during whole Ramayana? This book will satiate your queries. Written from the perspective of Raavan, a story about his life from birth till death and the story of his people. This should be on your book shelf.

Ajaya by Anand Neelakantan

Market is full of with books about Mahabharata but very few rises to the interest of the readers. Ajaya is the book on Mahabharata written from the perspective of Kauravas, the sacrifices, emotions going through the kauravas during war. The protagonist of Ajaya is the first born among 100 Kauravas. This book is divided in 3 parts.
The Chanakya's Chant by Ashwin Sanghi

This is Ashwin's best work till date. Following a modern day Gangasagar, who grooms Chandini to be the Prime Minister; this too flows between past and present, with Chanakya and Chandragupta forming the past half.

Scion of Ikshvaku by Amish Tripathi

Amish is back with his new series of book The Ram Chandra Series. This series will consist of 5 books and Scion of Ikshvaku is the first one in series, this is the story of Ram Chandra himself from birth. Incidents, situations that Ram went through and as a result he turned out to be the best king of Sapt Sindhu. Everything is written and explained very innovatively.

The palace of Illusions by Chitra Banerjee Divakaruni

Part fiction and part fact, this is draupadi's Mahabharata, it's about the war that Draupadi was fighting in her mind when she was married to the pandavas. It is about the friendship between Krishna and Draupadi. Everything is described beautifully in this book.

Sita: Warrior of Mithila by Amish

Very few must have wondered that what was Sita going through during whole Ramayana and what was she like during her childhood and before marrying Prince Ram. Well Amish Have brought us his latest installment in The ram Chandra series and it is the story of sita.

Jaya by Devdutt Pattanaik

In this book Mahabharata is in its complete form with illustrations and all the related folk tales that will increase your interest even more in this epic tale. Devdutt have put a great effort to explain the readers with the help of illustrations.
With great story come a great experience that author shares with all of us. Writing about the Indian Mythology is not easy as author has to get his fact right and had to present it in the safest and presentable manner that readers will enjoy. So these books are definitely worth your time and after reading these books you will find yourself totally indulged in Indian mythology.